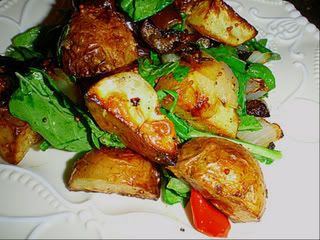 Have I mentioned that I love arugula? Yes, I'm sure that I did. So why, oh why, do I never think to buy it at the grocery store? So, many thanks to Kelly Saxer over at Desert Roots Farm (my CSA) for reawakening my interest. I don't know what it is about this leafy green that is so intriguing. Maybe it's the smell--as distinct as cilantro, but more earthy and mysterious. Or the slap-your-face bite of the raw leaves, which mellows with just a bit of heat. Or could it be the way it plays an outstanding supporting role to almost any other vegetable? Could it be that it's just fun to say, or makes people look at you like you're crazy (because most of them have NO idea what it is)? Or maybe it's all of those things.
All I know is that I now have a mighty craving for arugula. Today, I was sitting in the hospital with my mom (who, thank God, is okay, but we had quite a scare involving hot--according to her--paramedics and an ambulance ride) and trying to figure out what I could throw together for dinner when I got home. I knew it MUST contain arugula. A recipe for a roasted potato salad with arugula came with my CSA delivery, but I knew that I had other vegetable delights that needed to be used. Once again, for instance, I have the most gorgeous, tiny eggplant--some of them only about 3" long. And there was that bell pepper half. And an onion starting to look tired.
Perhaps it was sleep deprivation, or maybe just inspired instincts, but I tinkered with the recipe to include all the things I had on hand. The result--an amazing, simple, and delicious dinner of
Roasted Vegetable Salad with Arugula
. The potatoes, eggplant, bell pepper, and onion were chunked and cooked to a crispy turn in a very hot oven. A light dressing of olive oil, grainy mustard, and wine vinegar was whisked together with just a few turns of the fork. The vegetables came out of the oven, danced through the bowl of torn arugula, and were kissed by just enough dressing to enhance the flavors. Another keeper was born.