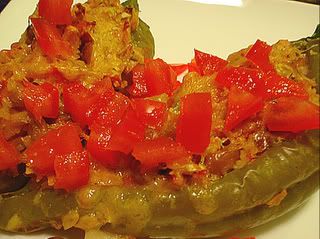 After getting burned (no pun intended--well, actually, it was) by my previous CSA experience, I have stuck my toes back in the water with
Desert Roots Farm
Summer Survivor Season--just four weeks to see if this one is going to work for me. So far, so good. We purchased a whole share, even though there are only two of us, thinking that, as vegetarians, the more vegetables the merrier. I still don't know if it's too much, considering my crazy work schedule. I have to decide soon, though, because it's time already to sign up for the fall season. Perhaps while I can't sleep tonight, I can figure that one out!
For those of you who haven't heard of, or aren't sure about, CSA's, I'll tell you what I like about mine:
It's absolutely local and organic eating.
Things come to me fresh from the farm, so there is no sitting around losing nutrients in the grocery store.
My CSA farm is run by a womah. I like that.
My share comes each week with a compostable bag, so all my scraps from the farm (or other organic produce) go in there, and get picked up to add to the farm's compost pile when my new week's worth of goodies is delivered.

It stretches me and forces me to cook, as I really hate to throw food out. Essentially, I nurture myself through nourishment, forcing myself to take time to cook instead of just work all weekend.
That last part gives me the heebie-jeebies a little bit, though. Right now, I have things cooking everywhere, knowing that the weekend may be the only time I really get to do much in the kitchen. Today, for example, I roasted butternut squash. I approached the task with some trepidation, as neither the Husband nor I have ever really been butternut squash lovers. However, they were in the bag and needed to be used, so what'a girl going to do?
I got out a big, giant knife and started working on skinning those varmints. Even though mine were small, the skin was still hard. I started with a paring knife, and quickly graduated to my 9" chef's knife. I hacked off the skin, scooped out the seeds, chopped the flesh into big chunks, then tossed the whole bit with olive oil, salt, and pepper, and tossed into a 450 degree oven. I have to admit to thinking the whole time that this was a total waste, as we don't LIKE butternut squash.
To my surprise, though, it started to smell pretty good. While the squash was cooking, and winning me over with its aroma, I chopped some walnuts and toasted them in a skillet. In a short time, the squash chunks were roasted, with crispy exteriors and meltingly soft interiors. I tossed them with a bit of walnut oil and the toasted walnuts, then took the bowl to DH with two forks. And you know what? We ate it. All of it. Every last, little bit (well, except for the two bites DH gave the dog, who wagged appreciatively.) So, I think we have another winner.
Isn't it crazy how we work ourselves to death sometimes with recipes when really simple preparations are also delicious? While I can see a riff on the plain roasted squash with walnuts being a possibility (sauteed onions, browned mushrooms, delicate frisee of sage?), it was good-really good-just as it was. I have to admit to frantically looking through cookbooks for something to do with that squash, then falling back on our standby of roasting when nothing else sounded all that good.
Speaking of recipes, though, I do have
one to share
. It started off with a bag of Anaheim chiles from the CSA. I poked around on their website a bit and found a recipe for chiles stuffed with a can of pinto beans, white rice, and salsa. That sounded like a good starting point, but not a good way to finish. So, I borrowed the idea and improvised heavily, and the results were delicious.
I started by blanching the Anaheim chiles in a pot of boiling water for about 5 minutes. I almost skipped this step, but I'm glad I didn't. The final recipe doesn't have much liquid in it, and I think the peppers would have been tough and fibrous without their first soak in the Chile Spa. The hot bath was followed by a quick dip in ice water to stop the cooking. I stopped there and bagged the chiles to use one night during the week. I also cooked a generous handful of basmati rice with some salsa added as part of the water, also setting that aside in the refrigerator.
On the night I made this, I got home from work and got into the kitchen. They were in the oven in about 20 minutes. I did use the can of pinto beans from the original recipe, but then went to work on some seasonings: onions, garlic, chopped green chiles, and tomatoes to moisten the mix. And cheese, of course. Hello. Beans and rice without cheese is like Thelma and Louise without a car. (I did have more filling than would fit in the chiles, so I just packed it into a small casserole dish and baked it right along with the stuffed chiles. While they were baking off in the oven, I chopped some tomato to toss over the top. About 30 minutes later, we had a dinner that we both enjoyed tremendously. Another one to go into the rotation, based on what came in my CSA bag. What's not to love?