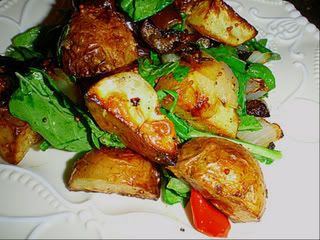 3/4 pound small red potatoes
1/2 pound small eggplant
1/2 large red bell pepper
1 medium onion
1/4 cup plus 3 tablespoons extra-virgin olive oil
Salt and freshly ground pepper
2 tablespoons grainy mustard
1 1/2 tablespoons white wine vinegar
2 cups arugula
Heat oven to 450 degrees (I use convection roast). Cut potatoes, eggplant, bell pepper, and onion into 1" chunks. Toss with oi and roast until browned and crispy, approximately 25 minutes.
Meanwhile, whisk olive oil, mustard, vinegar, and salt and pepper to taste in a small bowl.
When vegetables are done, toss them with torn arugula in a large bowl. Pour approximately 1/4 of the dressing over the vegetables (reserve the rest for another use, or pass at the table). Serve immediately.
Serves 2 as a light dinner.