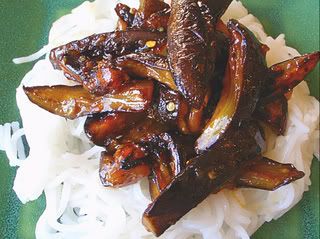 Copyright: Molly Katzen-
Vegetable Dishes I Can't Live Without

1/3 cup plum jam (try not to get large pieces of plum)
2 teaspoons Dijon mustard
1/2 teaspoon fresh grated ginger
Salt and black pepper, to taste
2 large eggplants (about 3 pounds)
2 tablespoons canola oil or peanut oil
1/4 teaspoon salt
Red pepper flakes, to taste (optional)

Start by combining jam, mustard, and ginger in a bowl, stirring until combined. Add salt and pepper to taste. Set aside.
Cut eggplant crosswise into 1/2" by 1/2" sticks.
Place a large, deep skillet or wok over medium heat. After about a minute, add oil to the pan and swirl to coat. Add the eggplant and salt, and cook, stirring continuously with a flexible spatula and scraping the bottom of the pan often, for 10 to 15 minutes, or until the eggplant is golden brown, very tender, and has collapsed in volume by about half. (If the eggplant seems to be browning more quickly than it is becoming tender, reduce the heat to medium-low and/or add a splash of water.
Remove from the heat, add the plum sauce, and stir to combine. Season to taste with additional salt, if needed, and some freshly ground black pepper. Serve hot, warm, or at room temperature, topped with red pepper flakes, if desired.