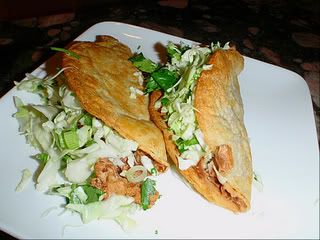 I love it when dinner is good enough to make two nights in a row, and the total tab for both nights is around six bucks. That was certainly the case with
Crispy Black Bean Tacos with Cilantro Slaw
. This adaptation from the "Fast Easy Fresh" feature in the February Bon Appetit went together quickly, needed minimal clean up, and used mostly things I had on hand. It was quick and easy enough to make last night, when I was so exhausted with a cold that I needed to be in bed two hours after I got home, and it was good enough to make again tonight, when I got home late. Now, we probably won't have it again tomorrow night, but still...two nights in a row is good, don't you think?
This works best if you come in and turn on the oven as soon as you get home. You have plenty of time to change clothes, check the mail, and mosey back into the kitchen. Four corn tortillas get spritzed with cooking spray on both sides, then go into the oven just long enough to soften. If you're fast, this gives you time to drain a can of beans and mash them with a bit of cumin, salt and pepper. As the smell of corn begins to fill the kitchen, pull the tortillas out of the oven, divide the bean mixture among them, fold over the tops, and slip them right back into the oven. In just a few minutes, you'll see the tacos begin to crisp up. That's a good time to turn them over, so both sides have good contact with the baking sheet.
Meanwhile, toss a couple of cups of coleslaw mix with the juice of a lime, a splash of olive oil, a couple of chopped onions, and a handful of cilantro. By now, the tacos are crisp, ready for the cold, crunchy topping to offset the crunch of the tacos. Really, what could be easier? Grab a diet Coke, the remote control, and dinner is served!