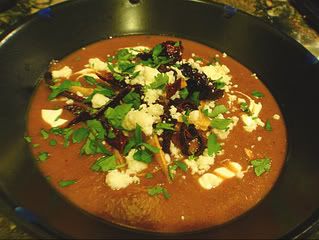 Copyright:
Heirloom Beans
by Steve Sando (Rancho Gordo Beans)
Somewhat Tarascan Bean Soup
1 pound plum tomatoes, halved
3 tablespoons extra-virgin olive oil
1/2 white onion, thinly sliced
2 garlic cloves, minced
4 cups cooked cranberry beans in their broth
3 to 4 cups vegetable broth (my modification; the original calls for chicken broth)
1 teaspoon dried Mexican oregano
Salt


Safflower oil for frying
2 day-old corn tortillas, cut into thin strips
2 ancho chiles, seeded and cut into narrow strips
1/2 cup queso fresco or other mild, moist white cheese
Sour cream for serving
Fresh cilantro leaves for serving

Line a large, heavy skillet with aluminum foil. Set over medium-high heat. Put the tomatoes cut side down in the pan and cook, turning occasionally with tongs, until blackened and soft, 10 to 15 minutes. Remove the tomatoes from the pan and chop. Set aside.

Remove the foil from the skillet and discard. In the skillet over medium-high heat, warm the olive oil. Add the onion, garlic, and tomatoes and saute until soft, about 10 minutes. Let cool slightly. Put the vegetables into a blender and blend until smooth. Transfer to a soup pot.

Puree the beans and their broth in the blender, adding some of the broth if necessary to keep the blades moving. Transfer to the put. Bring to a simmer and cook, stirring occasionally, for about 5 minutes.

Add the broth and oregano and season with salt. Cook for 10 minutes to allow the flavors to blend.

Meanwhile, pour the safflower oil to a depth of about 1/2 inch into a small, heavy skillet. Set over medium-high heat and heat the oil until it is shimmering. Fry the tortilla strips, turning with tongs, until crisp and medium brown, 2 to 3 minutes. Remove to paper towels to drain. Fry the ancho chile strips until they puff up and emit a spicy aroma, 2 or 3 seconds. Remove quickly as they can become bitter if overcooked.

Put a little cheese, a few chile strips, and some tortilla strips in each warmed bowl. Pour in the hot soup. Pass the sour cream and cilantro at the table for garnishing the soup.

(My notes: I combined the cooked onions, garlic, and tomatoes with the beans and used an immersion blender on them. It worked perfectly with MUCH less mess than dragging out a blender or food processer.)

This soup was discussed
here
.